Website: https://www.dispatchlabs.io/
Whitepaper: https://www.dispatchlabs.io/wp-content/uploads/2018/03/DispatchWhitepaper_Mar_5_18_v1.55.pdf
Testnet up and running: https://www.youtube.com/watch?v=H15H3jMgx4g
Github: https://github.com/DispatchLabs
Please share our Telegram channel if you like our review: t.me/primei_co_ANN/22
Overview
Dispatch is a new blockchain protocol which allows the control and management of programmable artifacts (data of any kind, files, merkle trees, etc) which are stored off-chain, but managed within the chain. Dispatch was designed to be the first blockchain protocol to leverage on-chain smart contracts to manage distributed storage of application data off-chain. Those smart contracts then program how the data can be accessed, linked and governed, like your typical SaaS-based centralized architecture. Their usage of off-chain storage solutions dramatically improves the functionality of blockchain, and allows their new technology to be both a better business case, but also ecologically and socially conscious and progressive.
The Dispatch platform is deigned to be one of the most disruptive forces in the cryptocurrency world. It can be used to offset a wide range of various industries through the use of a peer2peer platform that is secure, decentralized and can use any number of applications on a massive scale. Likely, like one that the world has never seen before or even thought was possible.
The opportunity from Dispatch for businesses is in the Applications. And with today's normal centralized run business models, applications are the software that suffers. It gets hit from security breaches and hardcore lag that leads to unwanted downtime, while at the same time watching as the price sky rockets to absurd costs. The nature of the blockchain with its distribution is the looking to be the natural solution.
The major problem is that with the current way the Blockchains are built and run, protocols on them don't have the power or functional aspects to scale accordingly and take care of the most important part of business apps, data. The secret to correcting the issue is in the scalability of the platform, along with the security and versatility.
With the Dispatch platform, transitioning data-driven applications to the blockchain is done simple and easy. The protocol on the platform is used to securely stores data off-chain and at the same time makes managing data through the use of the highly intelligent smart contracts a very easy and real method for operation. The platform is built for superior long-term security and versatility.
The vision of the platform is to help create a democratized blockchain platform that can change the world. And once the entire world is running on the new technology, people will be able to access and protect anything that they consider to be valuable to the point where it could start having an effect on the entire world, thereby creating global change. Whether it's money or it's content and identity, it doesn't matter, it works for everything.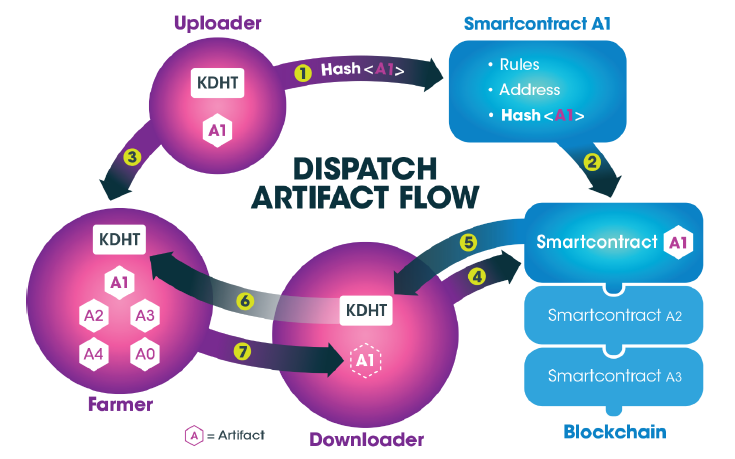 Applications that are being built on Dispatch Labs
Utopi.io - https://utopi.io/
Telegram - https://t.me/utopi_io
Utopi revolutionizes philanthropy, elevates live-streaming Blockchain technology, and integrates influencers & user generated content to transform our planet.
Tok.tv - tok.tv/
Telegram - https://t.me/toktvtoken
TOK.tv allows millions of fans to talk to their friends, while watching a game on TV.
It empowers teams and brands to talk to the fans, and monetize the game experience.
Nanovision - https://nanovision.com/
Telegram - https://t.me/nanovisionofficial
A Global, Decentralized Blockchain Economy Empowering Citizens and Scientists to Address the Greatest Human Health Challenges.
Team & Advisors – 9/10
Matt McGraw - Chief Executive Officer
Matt is an entrepreneur and CEO with expertise in quickly scaling successful businesses. After leading and shepherding a versatile range of tech companies, Matt's current focus is on technologies that disrupt hierarchies, and disseminate control of secure information to data users, ranging from individuals to enterprise clients. His innate design thinking focus complements a belief that good corporate governance and culture make success possible
Zane Witherspoon - Chief Technical Officer
Zane is an experienced blockchain architect and distributed systems specialist. He is firmly entrenched as an expert in the blockchain world, sitting on the board of advisers for four California-based blockchain companies, and an author in the space. His relentless drive to build something at the bleeding edge of what is currently possible, makes Zane an invaluable leader on the Dispatch tech team.
Diane Blattner-Kresal - Chief of Staff
With a focus on building resilient organized and adaptive systems within smaller companies, Diane brings more than 20 years of operations and project management experience to Dispatch Labs. With a diversity of leadership roles from marketing to publishing to tech consulting, and an MBA from the University of San Francisco, her operational savvy is essential to the Dispatch and Bureau teams.
Ivan Goldensohn - Chief Marketing Officer
Ivan is a co-founding partner of The Bureau, and Chief Marketing Officer at Dispatch Labs. Ivan spent five years in MMO video game marketing, and was responsible for more than 5100 million in regional revenue. Ivan was Director of Business Development at Cronos CCS, a leading global provider of central nervous system research clinical services, where he developed partnerships with NIH, NIMH, Columbia University, and the Nathan Kline Institute. Ivan also launched and managed Amonte, a California cannabis collective. Ivan's musings on blockchain have appeared in Hackemoon and TechBullion, among others.
Patrik Wijkstrom - Chief Operating Officer
With more than two decades of application development, process re-engineering, sales, marketing and team building experience, Patrik is an invaluable member of the Dispatch team. His peerless tech acumen is complemented by a deeper why, helping the people around him to grow, and a fundamental drive to leave the world a better place than he found it
Zachary Fallon - Senior Legal Advisor
Zachary is a former Senior Counsel in the Office of Small Business Policy for the Securities and Exchange Commission in the Division of Corporation Finance. He authored Reg A+, and has particular expertise in the area of small company capital formation and on various exemptions from registration under the Securities Act of 1933 Before Joining the SEC, he practiced corporate and securities law in the London and San Francisco offices of Latham & Watkins LLP Zach is a graduate of Trinity College, London (BFA), the Guildford School of Acting (MA), and the UC Berkeley School of Law (JD)
Greg McGregor - VP of Engineering
Greg is the inventor of Pre-Paid wireless, mobile technology and large multi-protocol Internet distributed networking infrastructure systems that resulted in an over 20 million subscriber mobile applications. With over 30 years of experience, he has architected, designed and implemented not only large Content Delivery Networks and Back End Servers, but also satellite networks with Laurel Space Systems and iBeam broadcasting.
Nicolae Carabut - Senior Developer
Born in Moldova and grew up in Eastern Europe where he subsequently earned his MS in Economics at the State University of Moldova. After relocating to the United States, he furthered his studies in the field of Computer Science at the University of Iowa. Today, as a highly trained professional software developer with an astute understanding of industry trends and innovative technologies, he focuses his expertise on business clientele services and development.
Christopher McGregor - Senior Developer
Chris McGregor has been working with new innovative technologies for over 15 years. He has conceptualized and developed multiple technologies including BT Cellnet's (O2) original Pay & Go, QoS / QoE solutions for 3G / 4G LTE mobile, mobile authentication for the U.S. Federal Government, the first pre-production prototypes of the world's first ISO biometric powered card (now being offered by MasterCard internationally), and Trumpet's SMB Social Commerce Platform.
Bob Stevens - Senior Developer
Bob Stevens has spent the last 20 years building enterprise systems for fortune 100 companies. The last few years have centered on building cloud-based solutions and using machine learning to drive more intelligent systems. His current passion is with block-chain and how it is impacting the world.
Muhammed Al-Abdullah - VP of Technical R&D
Muhammed has authored a variety of research papers in publications about the interaction of knowledge, social structures, and technical systems to better anticipate innate problems that emerge when scaling tech businesses and to fight and prevent economic crimes. He has been featured in the Cambridge Symposium on Economic Crime. Muhammed is an assistant professor at USF, and an expert in networking, security, information engineering, and cloud computing
Advisors
Jake Vartanian - Tokenomics Advisor
Jake Vartanian is the founder of Cryptodex, a contributor to Blockchain News, and an advocate of decentralization since early 2011. He has worked with high profile startups including Bancor, TokenCard and SingularDTV, helping to design token models, telling the stories behind these projects, and building digital ecosystems. Jake's focus is on using emerging technologies to help communities become more aware of the immense value they hold.
Tim Siwula - Advisor
Tim Siwula works on the Protocol team at ConsenSys with the initiative to design, build, and scale the future of blockchain interoperability, one protocol at a time. He is passionate about open source, developer tools, command line experiences, and API's. His industry experience ranges from banking, education, and security led organizations such as Lawrence Berkeley National Laboratory, Democratize Computing Lab, ADT, and Wells Fargo.
Matt McKibbin - Advisor
In blockchain since 2013, Matt co-founded Ubitquity, the world's first blockchain-based title transfer company, and D10e the first and leading conference on decentralization. He advises Network Society Labs, Humaniq, Securrency, and Social Evolution, Loci, Trive, and Academy. In 2017 he founded DecentraNet, a leading blockchain firm. Matt has been featured in Bloomberg, Nasdaq, TechCrunch, CoinDesk, CoinTelegraph, and more.
Paul Lambert - Advisor
Paul Lambert is an applied cryptographer, inventor, entrepreneur and pioneer in Internet security. He has more than 30 years experience developing security protocols for large and small customers including the NSA, Oracle and the Wi-Fi Alliance. Passionate about using cryptography to improve the world, he has lead non-profit projects to create and distribute privacy systems. He consults and teaches cryptography at the University of San Francisco.
Roadmap – 9/10
Q1 2018
Documentation for Dapp Development
Support development of 3rd-party Dapps
Q2 2018 - TESTNET ALREADY LAUNCHED
Ongoing 3rd-party Dapps support
Team scaling
Technical development
Q3 2018 - MAINNET LAUNCH
Genesis Block Launches
Training Curriculum development: Developer
Ongoing 3rd-party Dapps support
Q4 2018
Training Curriculum development: Business
Education: Online training launch - Developer
Ongoing 3rd-party Dapps support
Q1 2019
Education: Online training launch - Business
Ongoing 3rd-party Dapps support
Q2 2019
Expanded online training - Developer and Business
Ongoing 3rd-party Dapps support
Q3 2019
Launch Dispatch Labs University, including offline training
First Dispatch Developers Conference
Ongoing 3rd-party Dapps support
Q4 2019
Launch Dispatch certification program
Ongoing 3rd-party Dapps support
Competitors
The only close competitor to Dispatch Labs is Pchain. Dispatch will launch their mainnet in Q3 2018, while Pchain will launch their mainnet in March 2019.
The first mover's advantage will be on Dispatch's side!
Token Metrics – 8/10
Total Hardcap: $39.5M USD
Max supply: 25B total tokens
Token sale %: 42%
ICO Price: $0.005 USD
Public sale, TGE and Mainnet - Q3 (Targeted September)
Tokens released after Public sale
Verdict
Positive for short term flip
Dispatch Labs testing is over 100,000 TPS in perfect environments, clearly not every environment will not be perfect, but even in the worst environments we are still in the thousands.
Positive for long term hold
Blockchain technology has the potential to transform the world as we know it; but its current functionality limits practical applications that are fundamental for mass adoption. The Dispatch network advances blockchain to its next generation, enhancing its capabilities by introducing the novel concept of off-chain Artifacts.
This enables any Dapp developer to build an array of applications for the real world, across any industry, and unlock the true value of blockchain. The Dapps which are currently being built on, as well as the future Dapps which will be launched in Dispatch will allow blockchain technology to benefit businesses and end-users on an unprecedented scale.
Dispatch is solving the two largest scalability issues in existing chains: transaction speed and chain size.
Dispatch has already attracted a mix of startups and established companies that are leveraging Dispatch to transform their businesses, kick-starting the adoption of Dispatch as the first truly scalable business-ready blockchain.