So far, the Ledger Nano S is without doubt the most sought-after hardware cryptocurrency wallet available in the marketplace. This eminence fruits from not only the device's eye catching top notch features, but the company's exceptional reputation earned from gradual yet consistent production of high quality products (in this case Ledger products) as well.
A sleek and glossy European touch to its design, a user-friendly easy-to-use OLED screen interface, a flash-drive-like feel with two buttons on the side for interface navigation, and a backup seed key for recovering your crypto coins in the event that the device is lost or damaged, are among the Ledger Nano S' elemental features.
As a USB-pluggable battery-less device, the Ledger Nano S can be used by connecting it to a pc or a mobile device. Other than the fact that this hardware wallet as of now supports up to nine cryptocurrencies, the device is so far the least expensive of all the available multi-currency hardware wallets in the market, with a price tag of 79.00 EUR.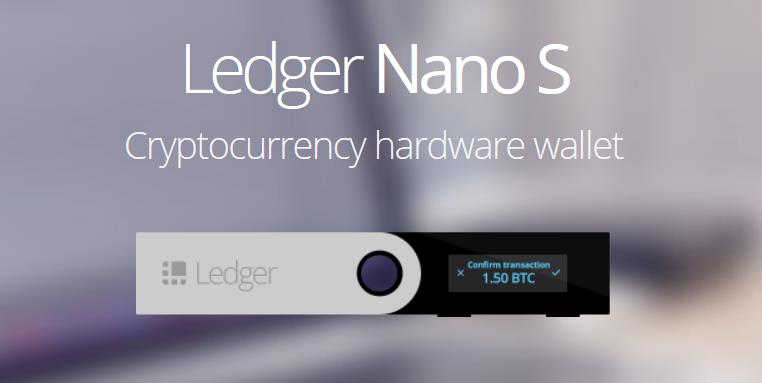 Ledger Nano S Wallet Configuration
Below is a step-by-step guide to configuring your Ledger Nano S hardware wallet:
Update your Ledger Nano S' Firmware:
Prior to initializing your wallet, ensure your device's firmware is updated to the latest version. This will install additional features as well as important security updates. After installing these updates, you can then initialize the device by following the steps below.
Using a USB cable, plug your device on a PC and follow the instructions on the device's embedded screen. Up to this point, you have two options to choose from; creating a new wallet account or importing an existing account. Whatever you choose to do, you basically need to follow the instructions on the device's screen.
Set a 4-digit PIN code for your device as it will be required to access your account. You will be prompted to confirm your PIN code and make sure to memorize it.
NOTE: Entering the wrong PIN code three consecutive times will reset your device.
Backup your seed/recovery phrase:
On the provided recovery sheet, copy the 24-word phrase in order of appearance. This step is key to recovering your wallet in the event that it is lost or damaged. You will not be able to complete the configuration process without confirming you copied the seed phrase. Store your "Recovery sheet" in a secure place.
Install Ledger Apps and your Nano S is ready for use:
The mention "Your device is now ready", is confirmation that you have successfully configured your Ledger Nano S wallet. All you have to do now is to see to it that the relevant Ledger Apps are installed on your PC, and you are good to go. These apps are readily available online and can be downloaded for free whenever needed. With these installations in place, you are ready to start using your Nano S wallet.
How it is used
As with all the other hardware wallets, you can use your Ledger Nano S wallet to receive transactions without plugging it on your PC. Nonetheless, you will be required to connect your device to a PC to send your crypto coins, since your private key will be required for transaction signing, and given that this key is securely stored on your wallet, unless your browser's extension can access your device via a USB cable, you can't do this.
Compatibility
Debatably, the Ledger Nano S' most outstanding feature is its compatibility with all major computer OSs, Android, as well as iOS devices. While Android and iOS devices have bespoke wallet management applications, desktops can interact with the device via a chrome extension.
Price
The Ledger Nano S, with a price tag of 79.00 EUR, is relatively cheaper than its peer, Trezor. Considering its minimal hardware design that relinquishes the use of a dedicated CPU and a graphical screen, this makes a lot of sense. In any case, it is justifiable to say that much of the price is hinged on the brand name, considering the eminence that is identified with Ledger products.
Hardware Specifications
Weight: 16.2g
Screen: 2-line Organic Light-Emitting Diode (OLED) screen
Processing: Secure Element Chips
Buttons: Two buttons on side of the case to use with index fingers
Case: USB shaped case with turnable metal cover
Case dimensions: 98mm long, 18mm wide, 9mm deep
Software – Supported Applications
A list of all available open-source ledger software can be accessed from the Ledger Software home page. Among them are;
Ledger Manager
Ripple Ethereum Wallet
Ledger Authenticator
Ledger Ethereum Wallet
Development Community
Ledger software's open-source development is one of the key contributing factors to the device's high-end security. Open-source development not only improves the code bases' quality, it as well accrues the likelihood of a required UI implementation sooner than later. In any case, should users seek to have a particular software feature included, a developing client always has the option to include it.
Customer Support
On the Ledger wallet website, under the support section, is a vast list of FAQs that will serve as your guide and answer most of the questions that you might have. Should your question(s) be more particular, you can carry over to the 'click here to get help' button which will prompt you with an email form, enabling you to get in touch with their support team. Handily, there are individual forms for orders and technical inquiries.