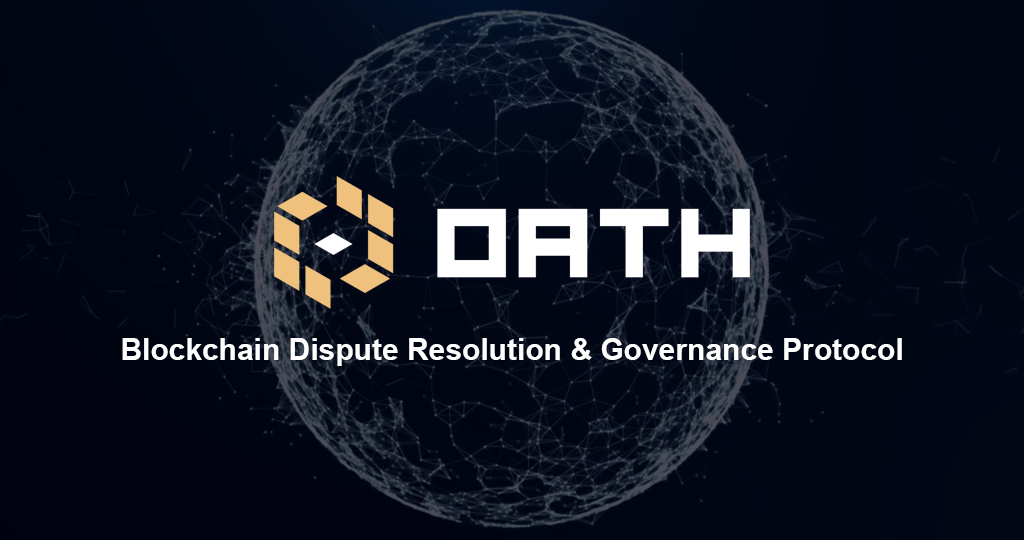 Overview
What does the company/project do?
OATH is a layer two blockchain protocol for enabling dispute resolution on public blockchains. In essence it is a governance solution that relies on the judgement of a jury that is formed out of a decentralized community. The identity of jurors remains hidden. The composition of the jury for a given dispute is random. Jurors are required to vote independently based on the evidence provided in the smart contract. The characteristics and number of jurors can be agreed by the contract parties. OATH will earn money from dispute resolutions and will forward some of these proceeds to jury participants. OATH is the solution that will step in whenever the code written in smart contracts will be insufficient to establish consensus among market participants.
What are the tokens used for and how can the token value appreciate?
The OATH token is the internal currency of the platform and is issued as an ERC-20 token. Users can obtain OATH tokens for resolving disputes on the platform, for running nodes and for providing community service. Only the jury members who will vote correctly as voted by the majority will be rewarded with tokens. This incentive model is comparable to Augur. The market capitalization and prosperity of the token will depend on how many decentralized applications will use OATH for resolving disputes on their platform.
How advanced is the project?
OATH counts with a white paper, a one pager that summarizes the protocol for less technical investors and an active Medium based blog where updates are presented. The OATH team secured an investment from a range of blockchain focused investment funds and managed to negotiate a partnership agreement with NEM, which makes it the default dispute resolution protocol on top of NEM. NEM is among the top 20 leading cryptocurrencies measured by market capitalization. In addition, OATH got several high level press coverages in recognized financial media outlets such as Yahoo Finance or newsbtc.com. The OATH MVP is expected to launch in early 2019.
Team
The OATH team is comprised of internationally diversified team members.
Yin Xu is the CEO and co-founder of OATH and holds a Bachelor of Science in Computer Science from University of Wisconsin. He counts with previous entrepreneurial experience and more than 10 years of experience as a software engineer.
Jenny Vatrenko is the COO and co-founder of OATH. She has a degree in law from Georgetown University and previously worked for a number of law firms.
Hongwei Wang is the third co-founder of OATH and the Head of Engineering. He has more than 10 years of engineering experience and previously worked for Google.
Will Zhang is the last co-founder of OATH and holds a Master in Computer Science. He is a serial entrepreneur and previously founded a cryptocurrency exchange.
Besides the co-founders there are several other people working for OATH in areas such as design, quantitative modelling, content management and business development.
The team of advisors of OATH includes Jia Tian, a cryptocurrency investor, Huawei Kong, a researcher, Xiahong Lin, an investor and entrepreneur, David Hong, a lawyer, Dafeng Guo, an entrepreneur, Rui Zhang, a lawyer and entrepreneur, Zainan Zhou, a Senior Engineer at Google, and Annetta Li, a marketing manager.
Product
From a technical perspective OATH provides extensions to existing smart contract programming languages and an infrastructure layer for decentralized applications. Developers will be able to integrate OATH as the platform that will resolve disputes in case that contract parties disagree.
The potential use cases of the OATH protocol include over the counter cryptocurrency trading, e-commerce dispute resolution, blockchain powered insurance solutions, liability determination for blockchain based rental agreements, content management for decentralized content platforms and social networks, determination of outcomes for oracle platforms and public blockchain governance.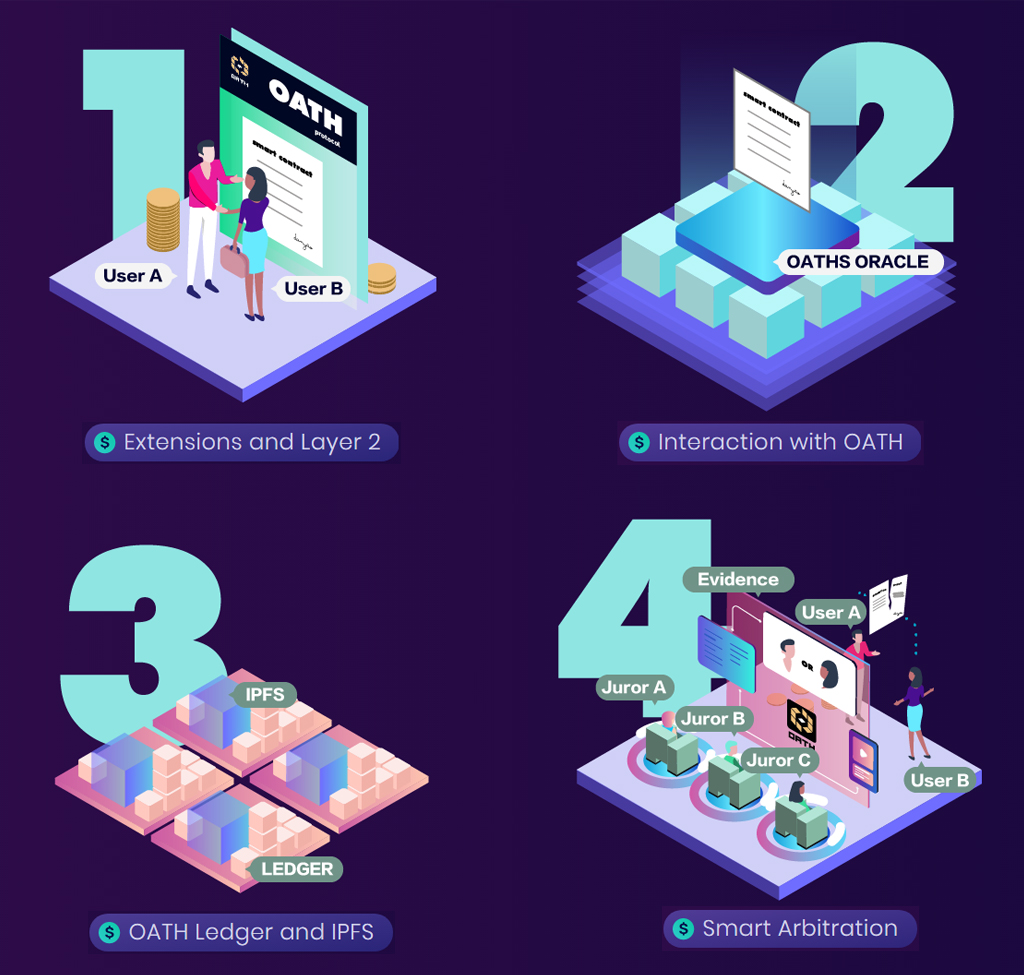 Strength and Opportunities
OATH, unlike some competitors, is blockchain agnostic. This means the success of the OATH protocol is not dependent on the success of a particular public blockchain.
OATH is serving a need that arises based on the emergence of the internet of value and blockchain based business relationships. Once smart contracts get more popular dispute resolution inevitably will become necessary. If OATH can build a user-friendly and highly functional product there is a good chance that the market will adopt it given the fact it is one of the first dispute management solutions.
OATH was able to present a number of partnerships with already established blockchain projects. Besides NEM OATH also announced a partnership with QuarkChain, a blockchain with a distinctive approach towards using sharding technology. QuarkChain is currently among the top 150 cryptocurrencies valued by market capitalization. OATH plans to leverage the communities of their partners for recruiting jurors and for leveraging their own community strength.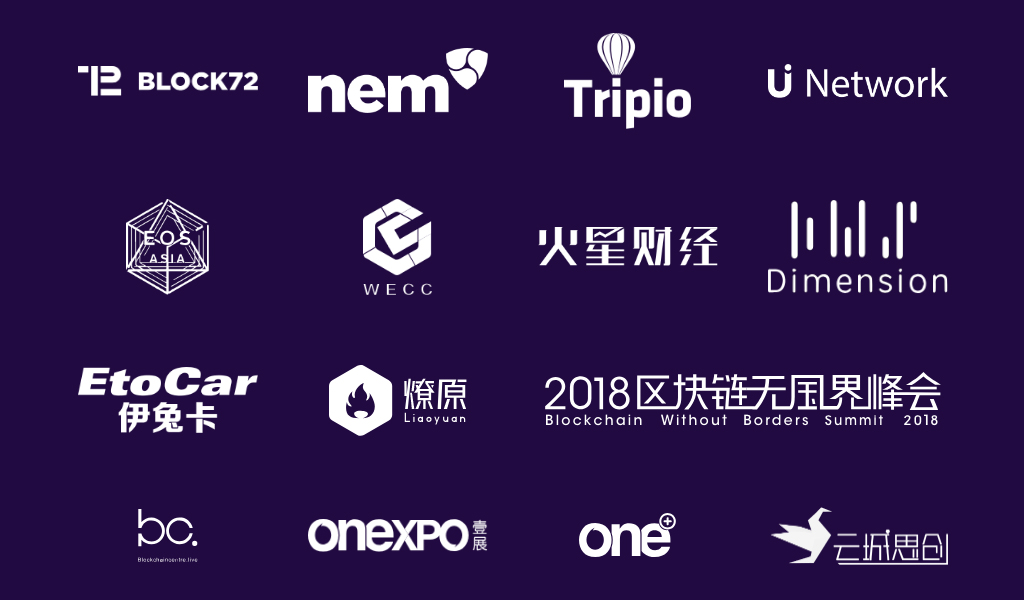 Weaknesses and Threats
OATH is not the only protocol focussed on dispute resolution. Kleros is an alternative blockchain based dispute resolution solution. The Kleros team is already for various years in the space and recently got featured on Epicenter.tv episode 250, where they introduced the team and the concept. OATH does not count with significant distinctive features compared to Kleros in the basic dispute resolution model.
OATH tries to serve a big number of use cases. While it may compete with Kleros for traditional dispute resolution, it will compete with Augur, when it comes to verify outcomes of oracle services. At the same time it will compete with Aragon for delivering the best public chain governance solution. This represents a broad number of use cases that are very different from each other. It will be hard for OATH to provide a product that can serve all these use cases very well. On the other hand, none of the mentioned competitors has yet achieved a dominant position. Furthermore, OATH may not need to become the best platform in every market that it serves for the purpose of becoming a flourishing dispute resolution protocol.
Verdict
The idea presented by OATH protocol is very intriguing, since it solves a problem that the algorithms that run behind the smart contracts of public blockchains can't solve. OATH may not be the first or the only dispute resolution platform, but their team, investors and white paper are compelling.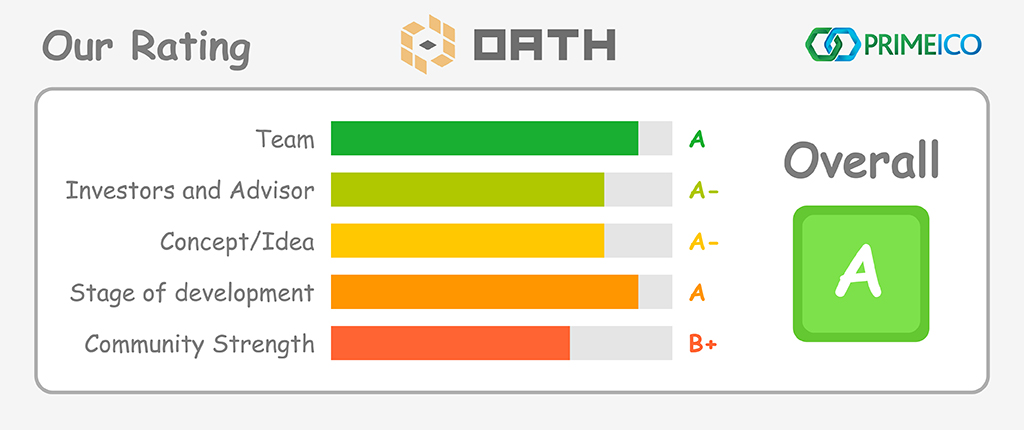 ? URL: https://oaths.io/
? TG: https://t.me/oathsio
For more updates, join our Telegram Channel, Subscribe to our newsletter, like our fanpage and follow us on Twitter. Hear about the most exciting ICOs before the hype hits.
* The information contained in this article is for education purpose only and not financial advice. Do your own research before making any investment decisions.