A digital currency wallet is comprised of 2 major components; private and public keys. Private keys, given that they serve as the "ticket" that allows users to access and manage their cryptocurrencies, are cryptographically secured to protect users from unauthorized access to funds and theft.
Storing your cryptocurrencies on an exchange is not as safe because, in the event the exchange is hacked or shut down, your crypto coins could in one way or another be compromised since your private keys are held by the exchange. As such, it is only safe to store your digital assets in a cryptocurrency wallet in which case you have full control of your private keys and digital assets.
A digital currency wallet could mean a hardware device, mobile application, website, or basically a piece of paper. There is an endless list of options to choose from with regard to Ethereum wallets, but in this post, we will set side by side a number of Ethereum wallets enabling you to pick one that best suits you.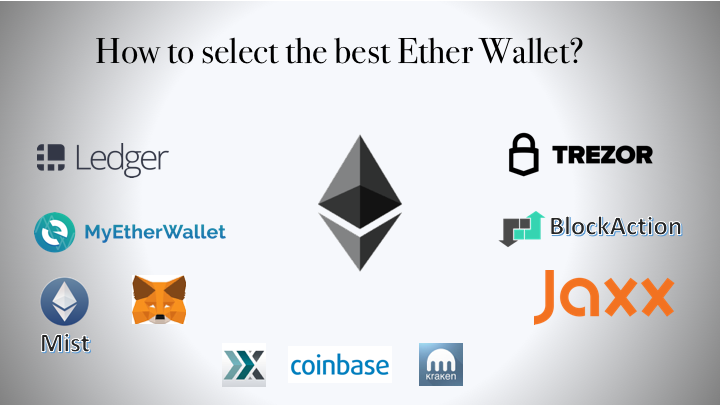 Most Recommended Ethereum Hardware Wallets
Hardware wallets are electronic gadgets devised to safely store your private keys in a cryptographically encrypted format. Of all types of cryptocurrency wallets, hardware wallets offer a level of security that is way beyond compare. Below are among the most recommended:
The Ledger Nano S is deservingly the most sought-after cryptocurrency hardware wallet. Among the device's essential features are; a backup 24-word recovery key that will enable you to recover your ether in case of theft or damage, an easy-to-use or rather user-friendly OLED screen interface, and a USB-drive-like feel with two buttons on the side for navigating through the interface.
Being a USB-connectable battery-less device, the Ledger Nano S can be used by plugging it into a PC or mobile device via USB. It is compatible with all major operating systems, as well as Android and iOS devices. Furthermore, it is so far the cheapest available hardware wallet and supports up to 9 digital currencies.
Click here to read full review
Trezor is an easy-to-use hardware wallet that guarantees absolute cold storage security by storing the user's private keys offline. Using the web-based MyEtherWallet client interface, you can easily store your ether on Trezor. It utilizes a secure electronic chip that is password protected. Secure interaction of the device with a PC is via USB connection. With a price tag of USD 99, Trezor is slightly more expensive as compared to other hardware wallets.
Ethereum Web/Online Wallets
Among the most sought-after Ethereum online wallets are:
As the most renowned cryptocurrency exchange, Coinbase enables you to buy and hoard various cryptocurrencies on their platform. The Coinbase wallet can be accessed via a browser or the Coinbase Android or iOS app.
It provides additional security through a multi-sig vault, based on a two to three key wallet system. Most of Coinbase' digital assets are held in the cold storage vault for extra security, though barely as much security as provided by hardware wallets.
MyEtherWallet is as well one of the most popular cryptocurrency wallets available in the market. It utilizes a web interface to interact with your wallet and is free. It is an apt option for an online wallet since it empowers you to access and write smart contracts. It can additionally be connected to such wallets as the Ledger Nano S or Trezor, granting you secure ingress to your ether within the MyEther platform.
Ethereum Software Wallets
Software wallets are applications that are used to store cryptocurrencies and can be downloaded to a PC or mobile device from the internet. As compared to online wallets, software wallets are more secure but not as secure as hardware wallets.
Among the most popular Ethereum software wallets are:
Mist Ethereum Wallet is a hybrid desktop wallet that comes with a web interface and is the solemn wallet on the Ethereum Project wallet listing. The wallet is password protected and once set, the password is immutable. All in all, as the official Ethereum wallet, you can never go wrong on the Mist wallet.
As the world's first desktop wallet, Exodus is a multi-currency software wallet with a ShapeShift built-in enabling you to speedily and effortlessly perform your transactions.
Some of the elemental features offered by Exodus are; 1-click email recovery, a ravishing minimalistic user interface, Windows, Macintosh, and Linux operating systems compatibility, and backup seed keys.
Note: The fact that this wallet is utterly internet-based deems it a vulnerable option for a wallet.
Jaxx is a multi-coin software wallet with a ShapeShift built-in enabling you to quickly and easily carry out your transactions.
Some of its features include; PIN code functionality, a minimalist user interface design, Windows, Mac, Linux, Android, and iOS operating systems compatibility, and backup seed keys. It is as well available through Firefox and Chrome extensions.
Conclusion
As dictated by your circumstances, particular Ethereum wallets will be an apt option for you. For long-term Ethereum holding, Ledger Nano S or Trezor hardware wallets are the most recommended. As much as you will have to dig into your pockets to acquire them, you are guaranteed the best security. In the event you are planning on moving your Ethereum around often, using such hot wallets as myEtherWallet or Exodus is most recommended.