Overview
Ultrain is building what it terms as "a programmable business society by creating World's first operating blockchain ecosystem, which is capable of doing process level lifecycle management for smart contracts."
The vision is for a blockchain with numerous features that will become the backbone for a rich ecosystem of DApps, each supporting their own token economy. In some ways it is similar to Ethereum, and in others to NEO, however, the vison seems to be for a more user-friendly network.
How advanced is the project?
The project began in October 2017. A testnet was due to be released by June, though there is no mention of it actually being launched. The public testnet is due for release in September, and the public network is due to be live by April next year. Various other components will be launched during the following 12 months.
The project has already raised $20 million during a seed round, during which 10% of the token supply was sold. This round seems to have included the sale of equity in the underlying business.
What are the tokens used for and how can the token value appreciate?
The native token is UGas (UGS), and the supply will be limited to 1 billion. 50% of the tokens will be available for mining. 10% have already been sold in a private sale, 10% will be available for community building, 15% will go to the foundation, and 15% will go to the core team.
DApps running on the network will issue their own tokens, UToken, which are similar to Ethereum compliant ERC-20 tokens. Each DApp will set its own token metrics and can choose its own consensus mechanism.
This does not leave any tokens available for a public sale. However, the team did indicate that there may be more distribution rounds, and these may come from the community allocation. This could take the form of an airdrop, or another private sale.
Five types of participants are identified within the ecosystem, namely; miner, Ultrain development and operation team, DApp developer, DApp user and exchange investor. Miners can earn tokens by running the blockchain and by leasing out computing power. The development and operation team earn 5% of the UGas output every year. DApp developers pay UGas to use computing power, and earn rewards based on how much their DApps are used. DApp users pay UGas to access applications. UGas it also destroyed at various points within the ecosystem.
The way in which tokens are used within the ecosystem looks good, however the initial valuation is very high.
Team & Advisors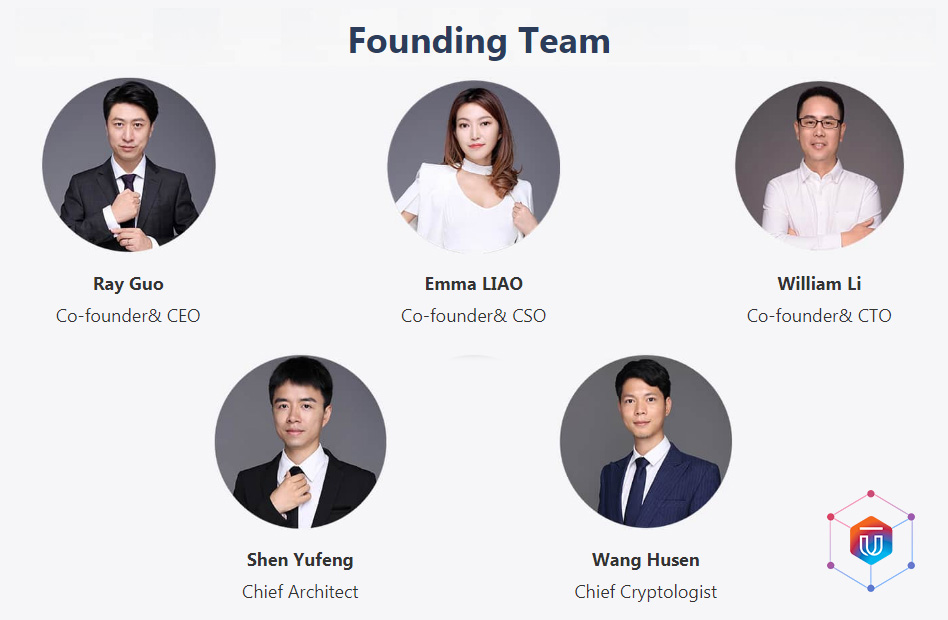 The white paper lists 14 team members. Ray Guo is a co-founder and the CEO. He comes from Alibaba, where he was a technical Director of Alibaba Security Group. He has also worked at IBM, China Mobile and State Grid.
William Li is a co-founder and the CTO. He was previously the technical director of the Alipay Blockchain team. He was also the core architect of the Alibaba Cloud OS.
Emma Liao is a co-founder and the CSO, and previously founded Pioneer Capital, a boutique investment bank in China. She has also worked at Golden Brick Capital TMT and Qihoo 360.
Many of the remaining team members come from Alibaba and other leading tech companies. There is considerable blockchain and cryptography experience within the team, but not much experience with blockchain start-ups.
The team does appear to have considerable experience and expertise in strategy, marketing and PR. The team have 15 localized hub advisors who will build partnerships around the world.
Several VC firms have invested, including Draper Dragon. FBG Capital, DanHua VC, Arrington XRP Capital, Morningside Capital and Ceyuan Capital.
Product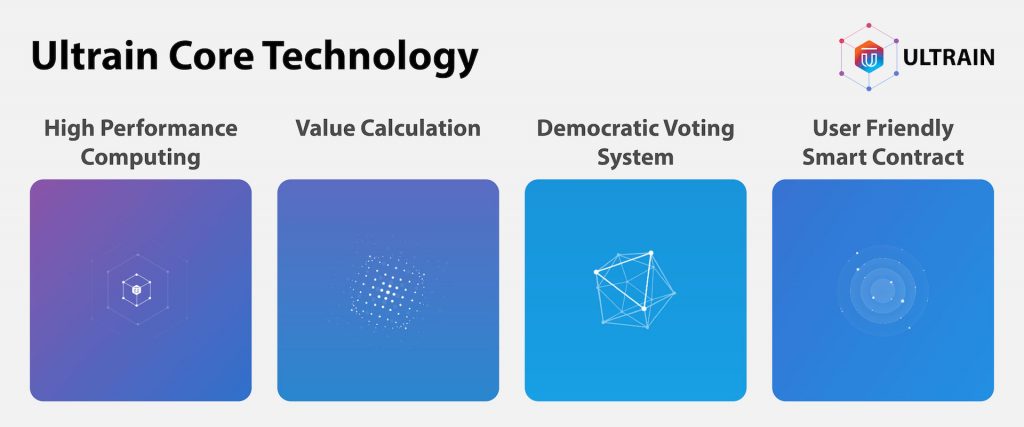 Ultrain is a smart contract and cloud computing platform with several value-added features. It also aims to have very high transaction speeds of up to 20,000 tps.
The blockchain will use a new random trusted consensus framework. This allows the network to use only 1% of computing power to mint new coins, freeing up the remaining 99% to be used by applications.
Ultrain will provide numerous services to businesses. These include computing power for AI, network management, high performance trust computation, user friendly smart contracts and blockchain IoT services.
The ecosystem consists of three parts. A technology layers includes integrated services based on the blockchain, AI and IoT. The horizontal services layer will consist of the organizations that provide decentralised business services.
Finally, the vertical application layer will consist of all the DApps providing services to end users.
Various onchain components will be built on the chain to aid DApps developers, including identity authentication, a credit system, prediction markets, zero knowledge proof and asset mapping.
Sidechains with customised characteristic will be created to serve specific industries. Potential sidechains and use cases that are identified include gaming, healthcare data, fan economies, the sharing economy, logistics and sports.
Strength and Opportunities
Ultrain has identified specific uses cases for the network. In addition, unlike most projects with IoT applications, Ultrain brings other services to the chain, including user friendly smart contracts and computing power.
The code is written in JavaScript, which is far more widely used than solidity and other applications.
The team is strong and has background experience in blockchain, AI, cloud computing, IoT and security, all of which is relevant to the project.
The roadmap is relatively short when compared to similar projects, and the public testnet will be available in September.
Ultrain has a strong, well connected investor base, and already has 15 hub advisors building partnerships with key organizations around the world.
Ultrain was awarded "The Rising Star of Blockchain 2018" at the China-US Entrepreneur and Investment Summit.
Weaknesses and Threats
This project is entering the most competitive area of the blockchain industry. While Ultrain tries to differentiate itself, ultimately it is a smart contract platform, and is therefore up against Ethereum, EOS, NEO, Waves and others. While the rewards for the winners will be large, there will be very few winners.
Ultrain may be spreading itself too thin by attempting to address too many industries. This may help it gain critical mass (positive), it may be spreading itself too thin (negative).
No mention is made of the chain being interoperable with other chains. This means the project will be at risk if interoperable networks become the standard.
The project has not yet managed to attract a strong following. The Telegram channel has 7,800 members and the Twitter page has 1,500 followers only. It's possible the WeChat group has more followers.
The valuation is high considering the project has a long way to go and the market is already competitive.
Verdict
This looks like a very good idea on paper. But, there are many unknowns, the market is very competitive, and the valuation is high considering there is no working product to speak of.
There may be opportunities to trade the token once it is listed – there is a good chance of an initial pump as the initial token supply will be limited. For investors, an investment should be regarded as a small, high risk position with the potential for a high payoff in time.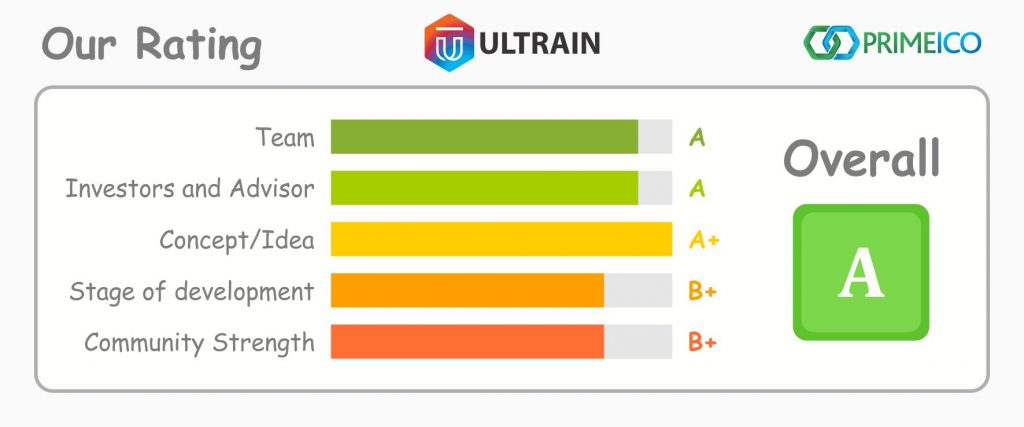 ? URL: https://www.ultrain.io/
? TG: https://t.me/ultrainchain
For more updates, join our Telegram Channel, Subscribe to our newsletter, like our fanpage and follow us on Twitter. Hear about the most exciting ICOs before the hype hits.
* The information contained in this article is for education purpose only and not financial advice. Do your own research before making any investment decisions.